Description
Buy Goex Reenactor Black Powder 1 lb Online
Product Overview
Goex Reenactor Black Powder is dedicated to and manufactured for the historical reenactor and the value-conscious black powder recreational shooter. Loading by volume charge as regular-grade black powder, this product is ideal for blank fire in Muskets, Carbines, Pistols and Cannon. Goex Reenactor Black Powder 1 lb For Sale
However, it is also suitable for loading in recreational round ball muzzleloaders, where it performs nicely at low pressures. With 100% black powder ignition, it is very reliable with every shot. Reenactor Gunpowder is value priced for every budget minded shooter pursuing living history.
Buy Goex Reenactor Black Powder 1 lb Near Me
Warnings from the Manufacturer:
Do not exceed the loads displayed in the reloaders guide.
Never mix any two powders regardless of type, brand, or source.
Never substitute any smokeless powder for Black Powder or any Black Powder substitute.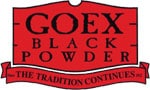 Specifications
Product Information
| | |
| --- | --- |
| Quantity | |
| Country of Origin | |